Do you remember your first job? No, not chores around the house, but your first real job, with a real paycheck? This summer will be a rite of passage for a whole new generation of teenagers who will be starting their very first real job. In fact, there could be millions of teens joining the workforce this summer. According to the Bureau of Labor Statistics, last year there were almost 21 million of young people in the workforce. Traditionally July has been the peak month for employing young people, as employing teenagers becomes more of an option during the summer months as a variety of seasonal positions open, and there are fewer restrictions on the hours that teens can work when school isn't in session.
While employing teenagers can be a rewarding experience, there are a few unique rules to follow and some best practices to make sure that the experience goes well for both the employee and the employer.
Get their working papers 
Employers must have the original working paper documentation from their employee to serve as proof of their eligibility to work. The employee is responsible for obtaining this through their school and providing the employer with the original document before they start working. An employer cannot accept a copy. Working papers should be returned to the employee when the job ends. Working papers are color coded for age as follows:
14-15 year olds - Blue

Issued to youth ages 14 and 15 who plan to work at permitted occupations during vacations or after school hours
Not valid for work:

In factory workrooms or construction
Involving use of prohibited machinery or chemical processes
As a helper on a motor vehicle
Cleaning, oiling, wiping or adjusting belts to machinery

16-17 year olds (in school) - Green

Issued to youth ages 16 and 17 who attend school and plan to work during vacations or after school hours
Valid for work in a factory and other trade, business or service
Not valid for hazardous employment such as:

Operating certain machines
Doing construction work
Helping on a motor vehicle
Cleaning, oiling, wiping or adjusting belts to machinery

16-17 year olds (out of school/dropped out) - Salmon/Peach

Issued to youth ages 16 and 17, who are not attending school or who are leaving school for full-time employment
Valid for factory or other types of work
Not valid for hazardous employment such as:

Operating certain machines
Doing construction work
Helping on a motor vehicle
Cleaning, oiling, wiping or adjusting belts to machinery
If an employee turns 16 during their employment they must obtain updated documents.
Know the limits on what job duties they can and cannot do
In accordance with federal and state employment regulations, there are numerous prohibited jobs for minors depending on the age of the worker and the kind of job to be performed. These rules can vary by state or municipality so it's important to check the laws where you operate. (For example, minors are not allowed to perform construction or manufacturing work, or operate heavy machinery.)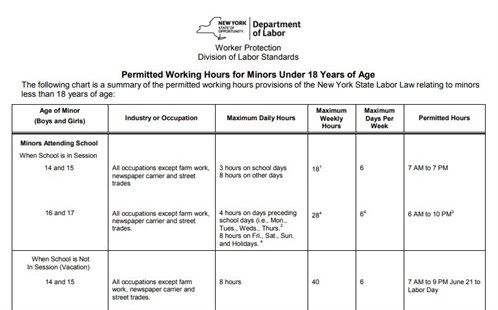 Click the image above for the fuill chart of Permitted Working Hours for Minors Under 18 Years of Age (PDF will open in a new window)
Understand when they can and cannot work
Teenage workers who are still minors have limitations on the hours that they can work (see table.)
Workers who are 16-17 year olds can work past 10 pm during the school year with their parent's and educational authorities' permission, by completing a parental consent form. Even with parental consent they may not work past 12 am and they cannot exceed the 28 weekly maximum hours. Employers must retain the consent form.
Follow all applicable wage and hour laws
Just because an employee is a minor does not mean there are any exceptions to the minimum wage or to their status as either exempt or non-exempt (the possible exception being classified as interns, but see the May 16, 2017 e-news on internships for more information).
Best practices for employing teenagers
Help them understand what's expected and model it for them. It's one thing to talk about dress codes, arriving late, phone policies, etc. and another to lead by example. It's important for you and your other employees and supervisors to set the tone.
Instill good working habits in teen employees by maintaining an ongoing dialogue and encouraging them to ask questions and always request assistance when necessary. You need to devote time to explaining their duties and training them on your operational process. Remember, for many teenage workers this may be their first job, so be available and open to answering their questions even after you've trained them, and don't assume "they should know better than to..." because that's something that comes from experience. 
Keep them busy. Use slow days and downtime to teach them a new skill or have them work on a longer term project, or even clean and organize the workplace. 
Stress the primary importance of workplace safety, and don't allow teen employees to perform any workplace functions deemed unsafe by the U.S. Department of Labor, including loading or unloading trucks, operating heavy equipment or working at a height greater than 10 feet above the ground.
If your organization employs teenagers and you have questions about any of these issues call the HR One Helpline at 1(800) 457-8829.