Unemployment insurance is a sizeable expense for most businesses? 
There are several proactive strategies that employers can implement to reduce their unemployment exposure, including:  protesting claims, attending hearings, and providing outplacement services.
Protesting Claims
Protesting claims is becoming more important each year as the weekly benefit rate continues to increase: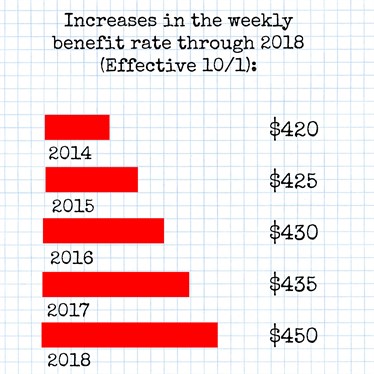 Make sure all unemployment claim forms are properly completed and returned to the Department of Labor within 10 days of the mail date, even if you are unsure whether the claimant should be eligible to collect benefits.
Attending Hearings
Attending unemployment hearings with knowledgeable, experienced representation can result in more favorable decisions for employers.
A recent change to NYS unemployment hearing rules will make it more difficult for employers to defend favorable unemployment determinations resulting in increased unemployment costs. 
Effective April 21, 2014, employers and claimants will only be allowed two opportunities to appear at administrative law judge hearings and may only request one reopening within a reasonable time.  It is critical for witnesses to appear at a scheduled hearing to avoid losing an opportunity to provide testimony which could uphold a disqualifying determination or reverse an eligible determination.
There are times when a separated employee will be eligible for unemployment.  Often when this happens, the employer is charged the weekly benefit rate (i.e., $405/week) for up to 26 weeks.  A solution to this dilemma is to assist the employee in securing a new job through outplacement services.  HR One has developed a successful program to get a separated employee back to work so that the unemployment exposure ceases.